Your Tiny Jungle Tot
Theatrical Release:
July 30, 2002
DVD Release:
July 30, 2002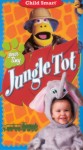 Synopsis
All aboard! Join Murray the monkey and his colorful puppet friends on a train ride through the zoo in "Your Tiny Jungle Tot." While on this playful tour, your infant or young toddler will be introduced to the stimulating, wonderful world of animals. They'll be amused by delightful puppets and lively, original music as well as be amazed by stunning live-action wildlife images. Child Smart videos are designed to nurture your child's desire to learn by making learning both fun and familiar. These education-based videos will captivate and entertain!
Dove Review
This is a very cute video. There is a cast of puppets and they travel on a train through the zoo. They see various animals, and for each animal, they show the real thing in the zoo and tell facts about the animal. They get back on the train, ask a riddle about that animal, show a baby either dressed up like the animal or with a stuffed animal, sing a song about the animal, have one of the puppets play an instrument, and show a cookie on a stick shaped like that animal. Then they get back on the train and proceed to the next animal. At the end they sing the goodbye song and then the puppets take a bow. This is a really great video for young kids. It gives them just enough information, and good information at that. Very cute!