Little Secrets
Theatrical Release:
July 22, 2002
DVD Release:
July 22, 2002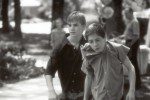 Synopsis
Emily is a gifted young violinist who forfeits her summer vacation to practice for a symphony try-out. While her best friends are having the time of their lives at summer camp, Emily keeps busy as the neighborhood's trusted "secret keeper," an objective ear and a last resort for the guilty consciences of the neighborhood's kids. She earns the kids' trust and respect by never revealing any of their secrets to anyone.
But Emily has some secrets of her own, and she thinks they are too big to tell anyone. With violin practice coming along slowly, big changes in her family fast approaching, and the neighborhood's secrets threatening to boil over, she is forced to juggle the loyalties of her friends, family and customers.
When Philip moves in next door Emily finds herself with a new friend, and even more problems on her hands – Philip's cute older brother, David, also away at camp, has a secret that indirectly threatens to bring Emily's secret out in the open.
Dove Review
Emily is able to keep the children's secrets that they are unwilling to share with anyone else, thus earning their trust and confidence. She treats them kindly and establishes a good relationship with them by being their "secret keeper." "Little Secrets" is a poignant examination of growing up, and is a refreshingly mature film for kids and adults alike.
Info
Company:
Samuel Goldwyn Films
Reviewer:
carol verbrugge