Under the Waves Episode 3: Strange Creatures
Theatrical Release:
July 22, 2002
DVD Release:
July 22, 2002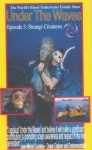 Synopsis
Join Olympic gold medal swimmer Mike Barrowman as he and his friends discover the colorful and fascinating creatures that live under the waves. This brilliant mix of zany comedy, education, and beautiful underwater footage entertains your entire family while you learn about the mysteries of the sea. Each episode of "Under the Waves" features several fun marine creatures and identifies both their English and scientific names, as well as tons of cool information that will surprise you.
Episode 3: Strange Creatures – Can the strange creatures in comic books measure up to those found under the waves? Find out as Mike and his friends discover some amazing ocean critters while they explore the coral reef. Featured creatures: Arrow crab, Moray eel, Sea Anemone and Pufferfish.
Dove Review
This video is a great learning tool for children. Mike and his friends see awesome animals that look like something from a comic book. The photography is great both in and out of the water, and the facts about the various animals could not be more complete and suitable for young viewers. This is a great video for anyone who would like to know more about the weird world under the waves. Like they say, fact is stranger than fiction!