Men vs Women
Network Premier:
August 4, 2002
DVD Release:
August 4, 2002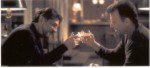 Synopsis
When Michael (JOE MANTEGNA) bought his wife Dana (CHRISTINE LAHTI) a new Cadillac, he thought she would be pleased. He was wrong….
When Dana stormed out of the house after seeing the car, Michael was a bit confused and hurt, but he thought she'd be back and they'd work things out. He was wrong again……very wrong.
Dove Review
When his best friend Bruce (PAUL REISER) went over to comfort Michael, and suggested they go for a quick trip to their favorite strip bar. Michael reluctantly agreed, thinking it might relax him. When Dana was on her way home, she saw Michael and Bruce leave, so she followed them into the strip club, and unbeknownst to them, watched as they received very intimate lap dances from topless women. Now Michael is pretty sure that this is the worst situation that he's faced in his 20 years of marriage…… Now both Michael and Bruce have to face their angry wives. As the night goes on, Dana and Brita learn more and more about their husbands and their many indiscretions. The acting in this movie is very good, and you can really feel the emotion. However, even though the whole situation is presented in a comedic fashion, the crude language, sex, and drugs give this movie a bad spin.