Austin Powers in Goldmember
Theatrical Release:
July 26, 2002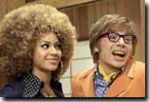 Synopsis
Mike Myers, his assorted characters and crew are back in the third, and supposedly last, installment of the spy spoof series. Meyers carries the spoof even further with scenes showing that Hollywood is making an Austin Powers movie directed by Steven Spielberg, starring Tom Cruise, Gwyneth Paltrow and Kevin Spacey, who all make cameo appearances. Even Britney Spears gets included in a humorously explosive scene. Dr. Evil (Myers) kidnaps Austin's father, Nigel Powers (Michael Caine), and hides him in 1975 with the criminal Goldmember (Myers). Austin travels back in time to rescue his dad and hooks up with Foxxy Cleopatra (Beyonce Knowles). They all end up in the present when Evil plans to use Goldmember's meteor-attracting beam to extort "gazillions" from Earth. Fans of the bawdy "Austin Powers" films will no doubt make this another box office hit.
Dove Review
In between jokes involving multiple euphemisms and slang terms for breasts, genitals and sexual acts, Myers mixes in messages about family approval and acceptance. Evil's son Scotty (Seth Green) looks for fatherly approval, but Evil focuses on his mute clone, Mini-me. However, when Scotty does earn Evil's attention, Mini-me finds himself suddenly excluded. And Nigel always seems absent when Austin wants fatherly recognition. A few henchmen are lost to tongue in cheek violence, but the constant sexually suggestive humor cheapens "Austin Powers in Goldmember," and the film does not receive the Dove "Family-Approved" Seal.
Info
Company:
New Line/Fine Line
Reviewer:
Movie Morality Ministries - Paul Bicking