Real Wheels: There Goes a Bus
Theatrical Release:
August 27, 2002
DVD Release:
August 27, 2002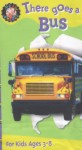 Synopsis
Dave Hood introduces the viewer to different kinds of buses and their various features and uses. He talks about cable buses, trolley buses, cross-country buses, articulated buses which actually bend in the middle, bus/boats which are tour buses which travel on land and water, motor homes which are a type of bus, double decker buses which are used in England because some of the streets are so narrow and, last but not least, school buses.
Dove Review
Dave takes us to special garages where buses are repaired, and "bus washes" which are built on a large scale specifically to wash buses. This video is especially geared to children's interests, but is enjoyable for all ages. One of the things stressed for children is bus safety, including how to safely board and leave a school bus, and how to use emergency exits in the event of an accident. Dave's explanations are uncomplicated and easy for children to understand.