Hey Arnold! The Movie
Theatrical Release:
June 28, 2002
DVD Release:
December 31, 2002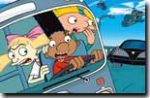 Synopsis
Arnold, the funny looking little boy with the football-shaped head and a really bad haircut, joins other characters from popular Nickelodeon TV cartoons on the big screen. Arnold (voice of Spencer Klein) lives with his grandparents in an old neighborhood about to be demolished by a huge development company. With only 30 days to find a document declaring the neighborhood a historic landmark, Arnold and his friend Gerald (Jamil Walker Smith) embark on a series of dangerous adventures. Soon other neighbors join Arnold's efforts, including the nasty-tempered Helga (Francesca Smith), who secretly adores Arnold. Young fans of the TV cartoon will find "Hey Arnold! The Movie" fun put perhaps a little scarier than the TV series, especially the suspenseful ride on a runaway bus and a threatening confrontation in the developer's dark, sinister corporate headquarters.
Dove Review
Arnold's trademark optimism and determination to right a wrong is admirable, but the movie paints most adults as either crooks or not very bright. Arnold's grandmother (Tress MacNellie) gets arrested for interfering with the construction site, then breaks out of jail and his grandfather plants explosives around the place. Helga's negative, abrasive attitude hides her true feelings for Arnold. Friendless and miserable, she secretly builds a shrine to him in her room. But she also spies on her father, one of the crooks behind the neighborhood demolition. Arnold and Gerald break in the corporation's office building with the street number 66613, outsmart the executives, and risk their lives to save the day when most fourth graders would be tucked snugly in bed. Cartoon violence includes an explosion, kidnap attempts, fighting and children trapped on a runaway bus. With no foul language, bathroom humor or sexual content, "Hey Arnold!" should not offend parents. However, the cynical portrayal of adults in business and government, especially in light of current events, further degrades positive feelings for the American free enterprise system.
Content Description
Violence:
Cartoon violence: an explosion; kidnap attempts; fighting; children trapped on a runaway bus.
Violence:
Cartoon violence: an explosion; kidnap attempts; fighting; children trapped on a runaway bus.