Biotrackers
Theatrical Release:
October 4, 2002
DVD Release:
October 4, 2002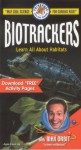 Synopsis
This video is a part of the Way Cool Science Series, a Thinkeroo Science Video. Currently there are three videos in this series: "Storm Chasers," "Rockfinders" and "Biotrackers." In "Biotrackers" kids will find out why habitats are important. "Biotrackers" answers this question by introducing kids to the animals and plants that live in different habitats around the world. Science enthusiast Max Orbit shows viewers what they need to know to become habitat explorers and official biotrackers. Max Orbit explores the polar regions, tundra, desert, grasslands, forests and water habitats of the world to learn about the plants and animals that live there. On this journey, incredible footage of animals in their natural environments are used to teach kids about the many fascinating habitats found on earth.
Dove Review
Kids that are interested in plants and animals will like this well done educational video on habitats. There is a lot of cool information for young elementary age kids to absorb. Max Orbit (Todd Alan Crane) takes kids on a scientific journey into the many habitats the world offers to plants and animals. Kids will learn about 7 different habitats from all over the world. Max is upbeat and quirky, so many kids will find him entertaining. The film footage of plants and animals is fantastic and will really hold the attention of elementary age kids. Some of the goals of the Way Cool Science video series are to make science more relevant in a kid's everyday life; motivate young, aspiring science-enthusiasts; and enhance elementary science lessons by bringing the outside world into the classroom.
These videos are based on National Science Education Standards. So, if you are a parent or teacher that wants to expose your kids to way cool science, this is the video series for you. They also provide science activity pages from their website www.thinkeroo.com.
Info
Company:
Mazzarella Bros. Productions,