Chadders Undersea Adventure
Theatrical Release:
May 16, 2003
DVD Release:
May 16, 2003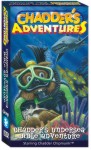 Synopsis
Intending to board a cruise ship, Chadder the chipmunk mistakenly ends up on a research boat. The crew, consisting of some interesting and unusual characters, is in search of thieves who are stealing underwater coral. In the process, they have some adventures and some funny and silly experiences and antics. The outtakes at the end of the video are very funny.
Dove Review
In the process of teaching Chadder how to scuba dive, Jamie, the young girl crew member, explains that coral reefs are alive and that sea creatures live in the coral. She tells him that God made coral, as He made all things, that they didn't "just happen," and those who steal and destroy the coral don't believe in God. She instructs him about the signals one uses when scuba diving so they can help each other. While Chadder and Jamie are in the water, a sudden storm occurs. She tells him to go underwater where it is calm with no evidence of the storm. She compares it to when Jesus calmed the storm and his friends felt safe. While underwater, Jamie's air hose is cut by the villain, and Chadder shares his air with her. She thanks him for giving "everything he had" to rescue her, just as Jesus gave everything to rescue us, and tells him that his courage came from God.