Under the Waves Episode 4: Symbiotic Relationships
Theatrical Release:
October 22, 2002
DVD Release:
October 22, 2002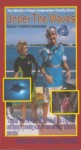 Synopsis
Join Olympic gold medal swimmer Mike Barrowman as he and his friends discover the colorful and fascinating creatures that live under the waves. This brilliant mix of zany comedy, education, and beautiful underwater footage entertains your entire family while you learn about the mysteries of the sea. Each episode of "Under the Waves" features several fun marine creatures and identifies both their English and scientific names, as well as tons of cool information that will surprise you.
Episode 4: Symbiotic Relationships – These relationships will never be found on the Dating Game! Watch and laugh as Mike learns there's more to romance than just flowers – especially under the waves! Featured creature relationships are: cleaning stations, coral and algae, Humpback whales and barnacles, Manta Rays and Remora.
Dove Review
Mike Barrowman strikes again. This time his antics take him to learn about Symbiotic Relationships. He tries to woo Sharon, but to no avail. Instead, Sharon, Renea and Andrew teach Mike and the viewers all about the symbiotic relationships many creatures in the sea have with each other. They explore what relationships coral and algae have, Trumpet fish and Cleaning Gobies, the Manta Ray and the Remora and many more. You will learn all about Protective symbiosis, Parasitic symbiosis, what cleaning stations are and also what shadow feeding is.
As usual with this video series the photography is excellent. They have many great shots of underwater activities for us to see. One part that I like a lot is the "Did you Know" information they have. I think it gives kids interesting tidbits of information they can use. Plus, they have a review section at the end of the video. Overall, another great journey for kids to make as they find out what is going on under the waves.