More Dogs Than Bones
Theatrical Release:
January 28, 2003
DVD Release:
January 28, 2003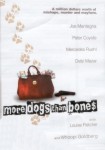 Synopsis
Mobster Victoria Galetti, on a plane to Los Angeles, has been "ratted out". The police are waiting for her at the airport, and she has a million dollars in cash that she has to get rid of quickly.
She stashes the money in the bag of Indian tourist Raj Lukla, who is visiting America for the first time to see his nephew, Andy. Victoria steals the address tag from Raj's bag so she can find the money later.
After Raj arrives at Andy's apartment, Victoria gives Andy's address to her partners who go to reclaim the money. What seems like a simple pick-up soon becomes a bizarre "comedy" of errors. After several mishaps, they finally locate Raj, but the money is nowhere to be found. It was hidden by Andy's dog, Socrates, and he's not telling where.
Dove Review
This move really has no "saving graces". The language is very offensive, including 30 variations of the "f" word, 3 "G_ D's", 1 "oh my God", 1 "Jesus", and numerous "s_" words. Listed by Monarch as a "comedy", the only humor is truly "black humor". There is considerable violence: 4 men shot and killed, l man struck and killed by a bus, the "bad guys" kill 4 men because they enter the wrong apartment, several friends shoot and kill each other in an attempt to get the money for themselves. Greed and betrayal.
Info
Company:
Monarch Home Entertainment
Reviewer:
Carol Verbrugge