My Brother the Pig
Theatrical Release:
January 15, 2003
DVD Release:
January 15, 2003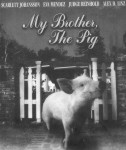 Synopsis
"My Brother the Pig" is a family comedy about the sibling rivalry of George Cauldwell and Kathy Cauldwell (Scarlett Johansson). Kathy struggles with the insecurities and melodrama that come with being 14, while 8 year old George delights in playing practical jokes on her. Trouble begins when Richard (Judge Reinhold) and DeeDee Cauldwell leave for France, and George is turned into a pig thanks to the nanny Matilda's (Eva Mendez) family secrets.
Matilda, George's best friend Freud (Alex Linz), Kathy, and George the pig adventure to Mexico to find the only woman who knows how to break the spell, Matilda's grandmother. The group soon discovers their problems are only beginning when they lose the family car and George is captured by the town butcher.
As Richard and DeeDee travel the French country they increasingly worry about the kids, while George, Kathy, Matilda and Freud face danger and near misses. The group must rescue George the pig, turn him back into a boy, and return home before their parents.
Dove Review
I really like films with Judge Reinhold in them. You can pretty much be assured that they will be suitable for the family and "My Brother the Pig" is no exception. The adventure the kids go on with their nanny to save Kathy's brother George is filled with fun and excitement. Scarlett Johansson does a great job in playing the self-centered teenage girl that is being bothered by a pesky little brother. Alex Linz provides the comic relief as the brainy Freud.
Info
Company:
Allumination FilmWorks