Heavens Neighbors
Theatrical Release:
February 25, 2003
DVD Release:
February 25, 2003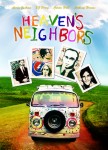 Synopsis
CDI's third feature, HEAVEN'S NEIGHBORS (www.heavensneighbors.com), is a movie about hope. Through briefly exploring the lives of two young men afflicted with schizophrenia and the doctors who care for them, the viewer is brought into the struggles they face and the dreams they still possess. While residing at a halfway house the young men reveal their painful life stories through counseling sessions with their respective doctors. It is shown how even though life can be overwhelming for them they still maintain the hope that they will someday recover and live independently. The newest tenant of the halfway house, John, has been recently diagnosed as a borderline schizophrenic and soon encounters Jake, a long-term patient with big dreams and a mischievous nature. John's doctor, Owen Boreas, the head of the Boreas Clinic, has reached the end of his rope after a nasty divorce and a custody dispute over his young handicapped daughter. He has begun to question whether or not he is making a difference in the lives of his patients and is a man lost in his own life.
Jake's doctor, the young Peter Cosmas, is very atypical. A former Dead Head, who devoted over six years of his life to traveling with the Grateful Dead, he is left still seeking fulfillment even after following his dream of becoming a psychologist. Through a glimpse of Peter's life we discover that he takes solace in the music of his past but not in the bad habits. He surrounds himself with mementoes of his carefree life on the road yet realizes that parts of his former lifestyle, including his drug use, must remain in the past. Living alone in a rented house, Peter remains a very private individual thus tempting Jake to learn more about him.
It is through a series of adventures including a joy ride in Dr. Cosmas' micro bus to a nearby park that the two young characters of Jake and John begin to view life outside of the clinic. Peter has his hands full trying to keep his patient in line and out of trouble, but with Jake's insatiable curiosity and John's naivete the two soon find themselves on a late night trek to "the house of one Dr. Peter Cosmas." After breaking in our two young felons discover a relic of Peter's past tucked under his sofa. His stash of marijuana. With Jake deciding the commission of one crime is not enough to complete the evening he decides to roll a couple and have a smoke. This begins a chain of events that will eventually lead to his doctor's downfall and ultimate dismissal from the clinic staff.
Yet there is still hope. Peter takes full responsibility for the actions of Jake and John after they are discovered to be in possession of marijuana. This selfless act on the part of Peter allows Jake to be released from the clinic as scheduled. It is at his lowest that Peter learns the importance of friends and of keeping hope alive. He and Jake decide to make a new start and at the end of the film they are on their way to Florida following their dreams.
Dove Review
This is an interesting film about life's problems, how different people handle them, relationships, and just plain getting through life. John is admitted to a "half way house" for people with emotional/mental challenges. It is there that he meets Jake, another resident. Jake has been there for awhile and may be getting out soon. He knows all the ropes and takes John under his wing. Jake's doctor, Peter is wrestling with demons from his past, because he is questioning his lifestyle and life choices. John's doctor, who runs the facility, also has many problems that he is wrestling with, which cause him to drink to excess. John's parents are strong Christians and send their pastor over a couple of times to check in on John. John is very skeptical and unsure of his faith and is not very receptive to the pastor's visists. A strong bond develops between Jake and John and results in them helping each other deal with many of there problems. Along the way, the two are constantly getting into trouble and challenge Peter's skills as a doctor. Heaven's Neighbors contains way too much obscene and foul language for Dove to approve it as is. While there is some drug abuse, it is not without consequences. The drinking and the pot smoking are not portrayed in a positive light. Although Peter seems to have fond memories of his past lifestyle of drug abuse.***************************Dove has met with the producers of this film and at this time, the producers have indicated their desire to edit this film in hopes of meeting Dove standards. We will keep you posted.
Content Description
Crude Language: Many (28+) times – mild 10, moderate 4+.Obscene Language: Many (16) times – F-word 5, S-word 8, other 3.Profanity: Many (5) times – regular 2 (GD, JC), exclamatory 3 (G, J, C sake, other)Violence: few – Man hits another man, man throws up on a preacher.Sexual Intercourse: None– Nudity: None-Homosexual Conduct: NoneSexually Suggestive Action/Dialog:NoneDrug Abuse: Many – scenes of drinking, one character portrayed as alcoholic, two characters smoke pot. One character contemplates smoking pot, but decides against it and puts it away.Other: On one hand, religion and faith are shown in a positive light, but John struggles with his faith.
Info
Company:
Collective Development, Inc.
Industry Rating:
Not Rated
Starring:
Aaron Jackson
,
DJ Perry
,
Anthony Hornus
,
Curtis Hall
,
Ann Marie Bourdon
,
Mary Jo Cuppone
,
B.B. Taylor
,
Bob Russel
,
Dean West
,
Casimir Borowicz
,
Rick Dethlefsen
,
Juanita Kennedy
,
Haylee Hornus
,
Zachary Sztanyo
,
John McGraw
, Brad Egan and Bill Bishop