Figure in the Forest
Theatrical Release:
March 10, 2003
DVD Release:
March 10, 2003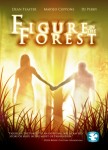 Synopsis
The movie follows the lives of a married professional couple, psychologist Rita James and architect David James, whose lives are shattered by the sudden death of their teenage son. Attempting to cope with the loss in their own separate ways, the once happy couple has become alienated and relations become strained. Through an act of attrition, the daughter of the drunk driver who killed their son visits Rita and offers her the use of a family cottage for relaxation and reflection. Rita heads off to the cottage and finds herself understand the meaning of her loss; the memory of her son awaits her in the forest.
Dove Review
"Figure in the Forest" is an inspiring, well-crafted story of hope in the midst of tribulation. Rita (Mary Jo Cuppone) and David (Dean West) are thrown into a horrific situation that seems to happen "only in the movies." But to them, the tragic loss of their son Shaun is all too real. This creative ensemble, from writer/director Jeff and Juanita Kennedy, to producer DJ Perry, and the cast, is made up mostly of Michigan residents. With rare exception, the actors present convincing performances that skillfully draw viewers into the compelling story of a life lost, a love found. The music performances by Joe Puliin, John Oates (Hall and Oates), Peter Frampton and the London Symphony Orchestra add a special texture that completes this portrait of repentance and reconciliation. My only criticism is the length of the film (148 minutes).
Info
Company:
Collective Development, Inc.
Writer:
Jeff and Juanita Kennedy
Director:
Jeff and Juanita Kennedy
Industry Rating:
Not Rated