Baby Gourmet: Spring/Summer Harvest
Theatrical Release:
March 26, 2003
DVD Release:
March 26, 2003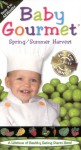 Synopsis
Chef Beary-Good delightfully introduces your child to the world of food and celebrations, featuring holiday vignettes of Valentine's Day, St. Patrick's Day, Passover and Easter, Mother's Day, Father's Day and the Fourth of July. Share the joy of your holiday traditions with your child! Mozart and classical music play to stimulate spatial reasoning in baby's brain through the "Mozart Effect." You child will learn left brain (logic) and right brain (creative) thinking, vocabulary and language skills, word/picture association, sequencing and logic, colors, textures and shapes, and creativity, by turning a basic fruit or vegetable into a mouth-watering finished dish.
Dove Review
Classical music, fruits, vegetables and kids abound in this stimulating video for baby's first through 24th month of age. Babies will be captivated by images of strawberries, flowers, pumpkins, and mangoes. They will be exposed to many different spring and summer holidays like St. Patrick's Day, Mother's Day, Fathers Day and the Fourth of July. In each of the holiday segments, baby will see what the traditional foods served for that holiday would be. For example, in the Fourth of July segment, there are kids playing, kids in a parade, grilling, swimming and many other places and images one might see on that holiday.
The fruits and vegetables are presented through segments entitled Fruits and Vegetables 101. The professor of 101 is non other than Chef Beary-Good. Kids should have no trouble eating their vegetables after seeing this video a few times!
Info
Writer:
Katheryn and Robert Warren
Director:
Katheryn and Robert Warren
Producer:
Katheryn and Robert Warren