Baby Gourmet: Fall/Winter Harvest
Theatrical Release:
March 26, 2003
DVD Release:
March 26, 2003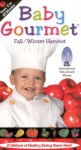 Synopsis
The adventure begins as Chef Beary-Good introduces your child to the world of food! Follow Chef through the Harvest Festival; explore, create and enjoy. Mozart and classical music play throughout, which has been shown to stimulate and enhance spatial reasoning through the "Mozart Effect". Stimulate left-brain (logical) and right-brain (creative) thinking as classroom sessions introduce vocabulary, word/picture association, languge, sequencing, texture, color, and shapes. Stimulate logic as well as creativity through turning a basic fruit or vegetable into a finished dish. Back to School, Halloween, Thanksgiving, Christmas, Chanukah and New Years are captured through the food, flowers, sites and spirit of each celebration. Share the joy of your holiday traditions with your little one.
Dove Review
If you want your child to grow up liking fall and winter seasons and all that goes with them, then this video is for you. Many of the different holidays that we celebrate in the fall and winter seasons are presented here: the Harvest Festival, Halloween, Christmas, Chanukah and New Year's Eve. Baby will see all the great traditions that go along with each of the holiday segments. Pumpkins, caramel apples, sweet potatoes, turkey, harvest flowers, and much, much more. Chef Beary-Good takes baby on a visual stimulating journey into fruits, vegetables and holiday dishes. Couple this with the classical music and you have a wonderfully captivating video for baby's first month through 24 months of age. In addition, there are many kids seen throughout the video that baby will enjoy watching. There is no trick to this video, the "Mozart Effect" is a real treat!
Info
Writer:
Katheryn and Robert Warren
Director:
Katheryn and Robert Warren
Producer:
Katheryn and Robert Warren