Baby Einstein: Baby Neptune – Discovering Water
Theatrical Release:
April 3, 2003
DVD Release:
April 3, 2003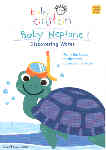 Synopsis
"Baby Neptune: Discovering Water" introduces babies and toddlers to the wonders of water in their world. Whether in the bathtub or the deep blue sea, in rivers or lakes, this is a playful, imaginative exploration of water from a baby's perspective. It combines captivating undersea footage with visuals of silly puppets, toys, happy children and the music of Handel, Telemann, Beethoven and Strauss. Baby Einstein uses real world objects, music, art, language, science and nature to introduce young children to the world around them in fun, fascinating ways. All our videos are set to music specially re-orchestrated for little ears. We encourage you to watch with your baby and enjoy the sights and sounds together!
Dove Review
As the music plays, amazing real life water pictures fill the screen. The puppets are cute and cuddly water creatures. Puppets, real nature shots, water toys, and human appearances make this video comparable to Sesame Street. The subject matter isn't as sophisticated as Sesame Street, but this is because it is for younger viewers. I enjoyed this video very much. The puppets were adorable, the music was calm and soothing, and the real footage brought everything together.
Info
Company:
Baby Einstein Company, LLC
Writer:
Jim Janicek and Jen Marino
Director:
Jim Janicek and Jen Marino