Baby Songs: ABC, 1-2-3, Colors and Shapes
Theatrical Release:
April 4, 2003
DVD Release:
June 3, 2003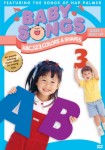 Synopsis
It's a bright new world of sights and sounds with these delightful songs from the immensely popular children's music legend Hap Palmer. Infants and toddlers will be captivated by these happy songs that celebrate the joys of a child's everyday world, from getting up, eating and dressing, to everyone's favorite activity, playing! These 18 happy, toe-tapping songs will put a smile on every child's face, and also provide gentle underlying messages invaluable in helping children express their individuality, enhance self-esteem, and provide a feeling of security. Song highlights on the DVD include "Colors In Motion," which encourages kids to get up and move according to movements assigned to a color, and "Alphabet In Motion," which challenges children to move their bodies to form the shapes of letters.
Dove Review
The audience for this video is kids 1 month of age through age 6 or 7. The 18 songs are beautifully crafted by Hap Palmer and are wonderful messages for kids to hear. Songs like Betty Beep, which deals with kids that are having trouble sleeping: "Betty Beep couldn't sleep, so she counted sheep." A song called Tap Your Sticks teaches kids to count: "Tap your sticks in the air with a 1, 2, 3."
Children can sing and play along with this DVD. Kids will learn their ABC's, colors and shapes, and how to count as well. There are kids throughout the video acting out things expressed in the songs, whether it be tapping their sticks, creating a band by making their own instruments, or clapping their hands together. Kids love watching other kids doing things like this. A well crafted DVD with additional features like the lyrics to the songs, coloring pages, continuous play and subtitles.
Info
Company:
20th Century Fox Home Ent.