Ewe Know: Do Ewe Sing?
Theatrical Release:
April 15, 2003
DVD Release:
April 15, 2003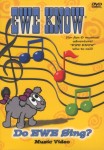 Synopsis
This is a compilation of songs about everyday events for children. These songs teach the kids important lessons that everyone should know. Be it teaching them the game of Follow the Leader, or showing them how to share, Do Ewe Sing is a fun and educational way to spend an afternoon.
1. Theme Song
2. Follow the Leader Song
3. Swim Song
4. Recipe Song
5. Super Genius Song
6. Greed Song
7. Poetry and Punch
8. Stuff Song
9. Shepherd Song
10. Storm Song
11. Share Song
12. Good Night Song
Dove Review
This is a crazy cartoon compilation of 12 songs about everything from cooking to follow the leader. Each song is set to catchy music and the lyrics are creative and original. The sheep and the wolves both sing about various topics that young viewers are interested in. My favorite song was number six, the Greed Song. The sheep was singing about not sharing and there were two sheep dressed up as angels telling him to share and two other sheep dressed up as devils singing about not sharing with him. This is a great assortment of songs that are fun and entertaining for kids. Intended audience is age 3 and up.
Info
Company:
Rising Star Studios
Writer:
Darren Monaghan * Gary and Jeanine Meyer
Director:
Jeanine and Gary Meyer
Industry Rating:
Not Rated