Ewe Know: Ewe Going There?
Theatrical Release:
April 15, 2003
DVD Release:
April 15, 2003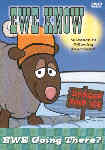 Synopsis
"Ewe Know" is a refreshingly different animation series that features the adventures of a woolly flock of sheep under the tender and wise care of the Great Shepherd. The sheep – Noils, Spunky, Trudy, Bubba, Bernie, and 95 others, live in the 6-1/2 acres of the Iowa Panhandle. Each episode features one or more lessons for life, which helps them learn about their special relationship with the Great Shepherd.
Rules, rules, rules – so many to obey. What happens when you are the one in charge, and your friend asks you to do something against the rules – should you? Can disobeying really be dangerous? How can a flagpole in the school yard be a trap and who gets caught? Can the frozen pond hold together long enough for the ball to be retrieved? Singing along with the "Snow Song" will soon become a family favorite. The "Rules Song" is a fun way to learn that rules are cool! Following the rules is a good lesson for all of us – we need them.
Dove Review
There are so many rules for all of the "fun" things that the sheep want to do. This is a great and fun way to learn that, while you may not always agree with the rules, following them is still important.
Info
Company:
Rising Star Studios
Writer:
Darren Monaghan and Gary and Jeanine Meyer
Director:
Jeanine and Gary Meyer