Ewe Know: Who do Ewe Follow?
Theatrical Release:
April 15, 2003
DVD Release:
April 15, 2003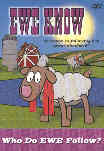 Synopsis
"Ewe Know" is a refreshingly different animation series that features the adventures of a woolly flock of sheep under the tender and wise care of the Great Shepherd. The sheep – Noils, Spunky, Trudy, Bubba, Bernie, and 95 others, live in the 6-1/2 acres of the Iowa Panhandle. Each episode features one or more lessons for life, which helps them learn about their special relationship with the Great Shepherd.
In this episode, Spunky decides to lead the flock to the pond. But with leadership comes responsibility and courage against unknown dangers. Who does the flock really need to follow? Includes "The Swim Song" and a lesson on how we all must follow the Great Shepherd.
Dove Review
Like all of the other "Ewe Know" videos, this one provides a wonderful lesson about following the Great Shepherd. When the sheep decide to leave on their own to go to the pond, it shows that they can't get there on their own. This episode shows that you're much safer and more apt to get to where you need to be with the help of the Great Shepherd.
Info
Company:
Rising Star Studios
Writer:
Darren Monaghan and Gary and Jeanine Meyer
Director:
Jeanine and Gary Meyer