Ewe Know: Do Ewe Share?
Theatrical Release:
April 15, 2003
DVD Release:
April 15, 2003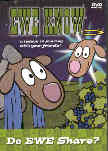 Synopsis
"Ewe Know" is a refreshingly different animation series that features the adventures of a woolly flock of sheep under the tender and wise care of the Great Shepherd. The sheep – Noils, Spunky, Trudy, Bubba, Bernie, and 95 others, live in the 6-1/2 acres of the Iowa Panhandle. Each episode features one or more lessons for life, which helps them learn about their special relationship with the Great Shepherd.Sharing is something that we all need to do, and learning about it with the flock is fun and enjoyable. The Ewe Know series is a wonderful learning tool that presents itself as a fun and exciting cartoon. This DVD has extra Bonus Features of 4 additional songs.
Dove Review
With the Panhandle Pancake Breakfast a few days away, Spunky secretly slips away to get all the stickleberries for the syrup… to keep for himself. With the wolves in hot pursuit, Spunky learns why it doesn't pay to be greedy. Includes "The Share Song" and "Super Genius" and a special game… and a lesson in sharing.
Info
Company:
Rising Star Studios
Writer:
Darren Monaghan and Gary and Jeanine Meyer
Director:
Jeanine and Gary Meyer