God Rocks!: Ten Rockin Rules
Theatrical Release:
April 15, 2003
DVD Release:
April 15, 2003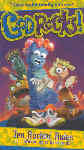 Synopsis
In the premiere episode, Chip sneaks off for a little relief from the world of rules when, suddenly, he finds himself on a wacky adventure. Along the way, Chip, Gem, Carb, and Splinter encounter the TC Twins, who help them learn that God gives us rules because he loves us. The twins are God Rock heroes who experienced a spectacular event. They were the stones God used to give Moses the Ten Commandments for his people! Accompanied by eye-popping special effects, the TC Twins testify to the power and love of God.
Dove Review
The God Rocks give a new and exciting spin to the important Bible lessons that everyone needs to know about so that anyone and everyone will enjoy them. Featuring a fantastic collection of rock characters whose experiences lead them to discover that God really does rock! Energetic story lines and fresh, original music combine with amazing, high-tech animation to present life lessons and a complete Bible story in every episode.
Info
Company:
Standard Publishing