Bee Smart Baby Action Words
Theatrical Release:
April 28, 2003
DVD Release:
April 28, 2003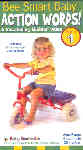 Synopsis
Your baby may begin to learn word meanings as early as four months of age. By the age of three, most toddlers have learned approximately 70% of their everyday vocabulary. These videos can enhance your child's language development significantly. Baby BumbleBee videos have been recommended by many speech therapists for children with language delays. There are 3 volumes of the "Action Words" video series available. Each video introduces over 20 new action words. This video is set to the music of Beethoven.
The "Action Words" video series boosts your baby's or toddler's verbal skills by introducing 60+ action words and simple sentence structure. Each volume introduces 20 or more action words with fun scenes and delightful music. The "Action Words" videos are the perfect follow up to the "Vocabulary Builder" videos. Each video features classical music, lots of kids, toys, and animals to hold your little one's attention.
Dove Review
"Bee Smart Baby" is an amazing and stimulating way to help your baby or toddler learn words and simple sentences. In volume one, Beethoven's beautiful classical music fills your senses in the background while simple words are repeated with children acting out the action words. After the list of words and actions go by once, each old word is accompanied with a simple sentence that helps the child understand the context of the word, and helps them further understand what the word really means. "Bee Smart Baby Action Words" is an excellent tool to help children from a very young age to an age where vocabulary is becoming an integral part of the child's life.