Spirit Foundry: Live in the Moment
Theatrical Release:
May 6, 2003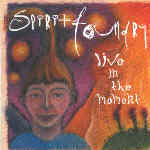 Synopsis
"Spirit Foundry" is a CD filled with great music – 10 different songs that make you feel good. Why different styles of music and singers? Because each of us is different with our own unique musical tastes. There is something here for everyone. Think of it as a compilation of pop, rock, RandB and dance, and then some. Featuring exceptional singers and musicians, "Spirit Foundry" is a collaborative effort between award-winning singer songwriter Beth Raebeck Hall and national acclaimed author Celia Straus. The purpose of this CD is to provide great music with positive messages of hope. The divine lives within all of us, though at times, seems a million miles away. This CD gives you the message that you are special, unique and an important part of our world.
Dove Review
With a different musical style to each song, "Live in the Moment" is a fun an upbeat musical masterpiece. Each song has a different feel to it and each sends a message to listeners that you are special and life is exciting and better with you in it.
Info
Writer:
Beth Raebeck Hall and Celia Straus
Industry Rating:
Not Rated