The Swamp Critters of Lost Lagoon: Gods River of Love
Theatrical Release:
June 13, 2003
DVD Release:
June 13, 2003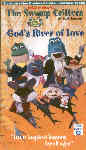 Synopsis
In "God's River of Love" Bobby Q is frightened by thunder and lightning. The Swamp Critters, Billy Bob Possum and Ribbit, explain how all things need God's rain to grow and thrive. The Swamp Critters understand that it's hard to be a kid sometimes. Every episode deals with problems that children face every day. The Swamp Critters teach that there are kindhearted solutions to these problems or fears.
Dove Review
"The Swamp Critters: God's River of Love" is a great way for kids to learn about things that happen everywhere and everyday in a fun and stimulating way. The Swamp Critters are kind and knowledgeable of things that go on, and are the perfect ones to help teach children lessons about God as well as everyday life. In "God's River of Love," the Swamp Critters teach Bobby Q that rain and thunder and lightning are sometimes scary, but that they are needed for things to grow and stay alive. They also teach Bobby Q that God's love is like rain, and that it is needed to grow and prosper as well. "God's River of Love" is a fun and musical way for kids to strengthen their knowledge of things that happen in the outside world, but also the world that cannot be seen.
Info
Company:
Bobby Goldsboro Productions