The Swamp Critters of Lost Lagoon: Savin the Everglades
Theatrical Release:
June 13, 2003
DVD Release:
June 13, 2003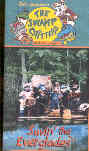 Synopsis
When a young bear cub falls into a polluted pond, he turns all the colors of the rainbow. The Swamp Critters come to his rescue and convince all the critters of Lost Lagoon to clean up the everglades. The critters of the Everglades learn the importance of keeping our delicate ecosystem in balance.
Dove Review
"Savin' the Everglades" is a great episode of "The Swamp Critters of Lost Lagoon" because it's an issue that is not touched on very often. These videos teach children about things that happen everyday both all around them and inside them, but the extra bonus is that they do it in such a way that your kids will want to know more about what they just saw. Teaching about the environment is important, and the Critters of Lost Lagoon do it without a hitch.
Info
Company:
Bobby Goldsboro Productions