The Swamp Critters of Lost Lagoon: The Taffy Pull
Theatrical Release:
June 13, 2003
DVD Release:
June 13, 2003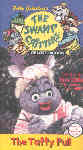 Synopsis
Ima Dilla has once again entered the yearly taffy contest, which she always wins. When she hears that Old Granny Muskrat is entering, Ima switches the taffy so that Granny can win. But Phinneas Phatrat has bet on Granny winning and also switches the taffy. Big Al finds a way for both to be winners.
Dove Review
"The Taffy Pull" touches on kindness and how important it is to do what you think is right, even if it doesn't make you prosper. Ima Dilla sacrifices her winning the contest to make Granny feel good. This is an important lesson of selflessness and is presented masterfully. This is a video for every kid to watch.
Info
Company:
Bobby Goldsboro Productions