Lovely Baby CD Volume 1
Theatrical Release:
July 22, 2003
DVD Release:
July 22, 2003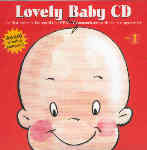 Synopsis
Raimond Lap, composer and creator of the "Lovely Baby" CD series claims: "Creating a better world starts with music at birth." Millions of babies around the world already enjoy his music. The "Lovely Baby" CD series is quickly becoming recognized as an efficient, stimulating and educating way to entertain babies. No other CD's have gone through so many tests and tryouts. Listening to good music with a pallet of styles that are well arranged, will positively stimulate the development of the child's brain.
Dove Review
The soft musical notes on this CD with 9 selections, punctuated with lovely baby sounds of gurgling and cooing, is pleasant. In "Melodic Questions and Answers" there is a nice progression of pace and beat, along with soft rattle sounds and gentle baby cooing. I found "First Time I Hear the Sea," with the gentle lapping water, accompanied by harp and piano, to be most appealing. Along with the harp, piano and water sounds, baby was softly saying: "Mummy, da-da, and ba-ba". "Baby Loves the Blues," with its distinct beat of do-wop and singing, I felt was somewhat more focused on the purchaser than the baby. Overall though, this song was a good part of the CD. "Baby's Toys Meet Melody" was interesting and would be familiar to the baby, because there are sounds of their first toys, accompanied with more gentle music patterns.
I can see this CD being played in a child's nursery as the parent/care giver puts the child down for a nap, leaving these gentle, soothing, punctuated musical sounds in the room. This is a winner for baby and I give it 5 Doves!
Info
Company:
Lovely Baby Music
Industry Rating:
Not Rated