Melindas World
Theatrical Release:
July 29, 2003
DVD Release:
May 10, 2005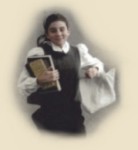 Synopsis
Melinda's world is very small. Her dour, joyless parents are members of a religious sect that forbids the celebrating of birthdays or holidays. Melinda finds her solace in small things: a spun silver spider web and her box of treasures. The movie spans one year in Melinda's life: she experiences many of the angsts of young girls who are coming of age. There are many people who influence Melinda during the year: a disgraced writer, a waylaid college professor, and a waitress in the local restaurant.
Dove Review
Melinda has a lot in her small world. Her joyless, legalistic parents, coupled with her sense of adventure, come together throughout this video, creating some interesting scenes. The video was much too long and sound quality is extremely poor at times. Melinda's box of treasures is featured and interspersed throughout the video. David Baumgarten has attempted to carry the contents in her box as a theme in many scenes, but they don't consistently stitch together with clarity and continuity.
The waitress who introduces Melinda to Coca Cola is a delight in her small world, and this woman exhibits love to the young girl. Her parents have a conversation near the end of the video, and the mother convinces her husband to have a Christmas tree with ornaments. Melinda's father is a stoic who only seems to raise his voice at Melinda. Because of Melinda's joyful spirit, and some caring people in her life, she is triumphant in the end, even after losing an aunt in death and having her kitten smothered by her father.
This video only rates 2 Doves due to a lack of clarity in many scenes, poor sound quality, and actors who do not seem comfortable in the roles they are playing.
Info
Company:
Dawn Treader Films