Uptown Girls
Theatrical Release:
August 15, 2003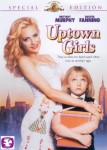 Synopsis
n Uptown Girls, Molly Gunn (Brittany Murphy) is the toast of the New York social scene. The freewheeling daughter of a late rock legend, Molly is an "it girl" on top of the A-list – designers want to dress her, the most eligible bachelors want to date her, and her birthday bash is one of the hottest tickets in town. Her life is a never-ending party. But when Molly's inheritance is stolen by her accountant, the party comes to an abrupt end. Molly is forced to do something she's never done before – get a job. With the help of her best friend Ingrid (Marley Shelton) and A an R scout pal Huey (Donald Faison), Molly lands a position as nanny to the daughter of high-powered music executive Roma Schleine (Heather Locklear). Molly's new charge is Ray Schleine (Dakota Fanning), a precocious, uptight 8-year-old "going on 40" who's obsessed with germs and lives her life as perfectly as possible. Emotionally distant from her mother, Ray has grown up with a revolving door of nannies and too little stability, so she tries to control everything she can.
Molly has never needed to be a responsible adult. Ray has taken the weight of the world on her young shoulders.
They're about to teach each other how to act their age.
Dove Review
This film was cute in some ways with the child, Ray Schleine being much more mature in many ways than Molly Gunn. The chemistry between Murphy and Fanning on screen is very endearing and enjoyable to watch. The Molly Gunn character however leaves something to be desired in the morals category however. She is a women of one night stands until she meets Neal an aspiring young Rock N Roll singer. She has several sexualy encounters with him and is shown in many revealing outfits. It was too bad that the writers didn't stay true to his convictions when he is first introduced in the film. He refrained from sexual relations because of his first love of music. While chariming in mnay of its elements, Dove cannot award Uptown Girls the Dove Seal due to foul language, and some sexual content.
Content Description
Crude Language: several hells and damns and the use of the term slut.Obscene Language: noneProfanity: Many so many exlamitory profanities like Oh my God and Oh God 9 or 10 times.Violence: not much here other tahn a couple of fights between kids and then between adults.Sexual Intercourse: Sexual intercourse implied a few times. Molly and Neal seen in bed together. Molly wearing Neal's shirt and boxer shorts.Nudity: Woman with no top seen from behind and slightly from the sideHomosexual Conduct: NoneSexually Suggestive Action/Dialog:Molly and grilfriend talk about Molly's expoits and one night stands, Molly dances seductively in skimpy night gown.Drug Abuse: Alcohol use in a barOther: Finger gesture by little girl
Info
Company:
MGM/UA Home Video
Writer:
ulia Dahl and Mo Ogrodnik and Lisa Davidowitz from a story by Allison Jacobs.
Producer:
ohn Penotti
, Fisher Stevens and Allison Jacobs