Dark Horse
Theatrical Release:
March 25, 1991
DVD Release:
March 25, 1991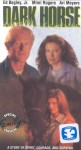 Synopsis
Young Allie is devastated when her father relocates them to a small town after her mother's death. Missing her friends, she takes up with new ones whose bad influence breeds trouble. The result is community service on a horse ranch where she befriends a beautiful championship horse. There, a whole new world opens up to her until an accident shatters it all, including Allie's will to live. This deeply moving family drama builds to an unexpected and powerful climax where courage is tested to its limit.
Dove Review
Dark Horse is a heartwarming tale of loss, hope, restoration, and transformation told through the experiences of Allison, a young teen played convincingly by Ari Meyers. The film begins with her grieving the death of her mother and a life she once knew in Los Angeles. Her move to the country is a cultural shock, and she finds herself in a bit of trouble. Her encounters with all that is different highlights how effectively embracing change can help alter one's outlook. Allison is confronted with people and even animals, especially a skittish and troubled horse, that she is wholly unaccustomed to and is challenged to accept and grow from these new experiences. With this comes risk and more loss in unexpected ways, but Allison also learns much about her own passions and abilities by working to overcome obstacles. By helping one of her closest companions to trust and heal, she is given the opportunity to do the same through an interesting turn of events.
There are heart-wrenching moments in this film where all seems hopeless, and Meyer's performance alone brought me to the brink of tears more than once; likewise, her genuine expressions of joy along with her triumphs were equally endearing. Ed Begley Jr. and Mimi Rogers supply a supportive subplot, as does Allison's friendships. The pacing of this film is very engaging, as we experience Allison's wins and losses in a timely, and at times, suspenseful fashion. This enchanting and purposeful film does contain a violent scene involving fighting and aggressive behavior towards women, but it is Dove-Approved for its messages of hope and integrity. Dove is proud to award the film our approval for ages 12-plus.
Info
Company:
Republic Pictures Home Video
Industry Rating:
Not Rated