The Trial of Old Drum
Theatrical Release:
August 26, 2003
DVD Release:
August 26, 2003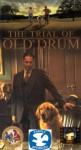 Synopsis
This film is based on a true story. "You just have to be honest," Ann tells young Charlie, "and have faith in the truth." But Charlie's not so sure the truth won't just get all twisted up by the attorneys and used in court against Drum, his loyal dog and best friend ever. Still, Drum's accusers, including Charlie's own Uncle Lon, are going to get their day in court, and they say Drum is a bloodthirsty monster who is killing their sheep, one at a time. Charlie knows they're barking up the wrong tree about Drum, an amazing dog that somehow seems to know he must do his darndest to fill the void left when Charlie's mom died years earlier. But how can Charlie prove any of that? Maybe Ann was right. His only hope is faith in the truth – and a good attorney.
Dove Review
There are many themes inter-twining in this, another winner for Feature Films for Families. Charlie's devotion to his dog Drum, and his having to stand up to accusations against Drum that literally split the small town in two: is Drum guilty of killing the sheep? As the story unfolds, there are other layers of interest; Charlie's dad begins courting Ann, the newspaper editor, and Uncle Lon's deep feelings about his sister's [Charlie's mom] untimely death and the guilt he places on others for her death. The acting is good, but the dog almost steals the show! Here's another winner for the whole family to enjoy; this will hold anyone's interest as this fascinating, but true story is told.
Info
Company:
Feature Films For Families