Breaking Free
Theatrical Release:
September 9, 2003
DVD Release:
September 9, 2003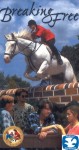 Synopsis
This movie is about a juvenile delinquent, Rick, who is given the chance to clean up his act by working as a stable boy at a camp for the blind. He then meets a young girl, Lindsay, who has just recently become blind because of an accident. Lindsay at first is hard to like at all, but by the end of the movie, you end up really liking her attitude. Rick soon finds himself taking care of a white horse, Ghost, who was abused by its previous owner. Many great things happen at the camp, as well as some not so good. The camp is made for kids who have to learn how to get along in the world. Lindsay herself must learn to break free from her impairments and learn that she can do whatever she wants to. The ending was quite suspenseful in many ways, which you will have to see for yourself. Some parts are very sweet and might cause a tear or two.
Dove Review
There is little violence, a bloody nose for example. Minimal animal abuse was shown, like a horse being spurred to the point of bleeding and showing a horse that had been starved. There was one moment of cleavage shown, but it was tastefully done, like anything you would see on a summer dress. The movie was informative when it came to the technology the blind can use; there were many things I had never heard of.
I would definitely say this is Dove approved; it may not be a movie most adults will be interested in, but kids 12 and under will probably really like it, especially horse fans.