The Ghosts of Dickens Past
Theatrical Release:
September 9, 2003
DVD Release:
September 9, 2003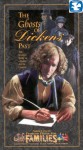 Synopsis
"Getting beyond our own needs," a close friend tells Charles Dickens, "takes thought and effort and, above all, an unselfish heart." This timely advice is given as the author struggles to write – only for profit. Unfortunately, his desire for financial security only fuels his own fears and self-pity. When his soul-searching leads him into peril, he receives unexpected help from a young girl. Hauntingly, her life mirrors his own childhood. Through the strange events she reveals to Dickens, she reawakens in him a desire to refocus his priorities. But he runs into a wall built upon his own painful memories of a childhood marred by debtor's prison. He wants desperately to solve the plight of child labor but doesn't know how. Unless he can discover the healing power of a simple act of charity, his dream of truly making a difference is as dead as a doornail.
Dove Review
If you love Charles Dickens, and want further information on how "A Christmas Carol" came about, this video is great viewing. This wonderful story shows us how fragile one of the giants of literature was: he had fears and deep insecurities that disempowered his God-given talents. As the story unfolds, and the young girl is introduced to him, you can see the awakening in his heart and spirit. I loved watching this story unfold. There are good opportunities not only for families, but teachers to discuss the idea that "getting beyond our own needs takes thought and effort and, above all, an unselfish heart." This message can't be heard enough in this age of me-me-me-me-me and the plague of self-absorption that's gripping us in the 21st century.
Info
Company:
Feature Films For Families
Industry Rating:
Not Rated