Gallavants
Theatrical Release:
September 16, 2003
DVD Release:
September 16, 2003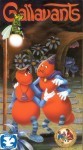 Synopsis
This movie is about a young Gallavant by the name of Shando who, throughout the whole movie, tries to get his "Kabump." Confusing, right? Well, a Gallavant looks a lot like an ordinary ant (but cartoon) and a Kabump is something all Gallavants get when they reach adulthood. It's a bump that forms at their butt, almost like a tail. There are two reasons why Shando wants to have his Kabump – the first reason is easy to guess, and he wants to be considered an adult. The second is that in order to be in The Giggers, a band of singing ants, he has to have a Kabump.
To get into The Giggers, he at first lies and puts on something that resembles a Kabump, but it doesn't work so he is kicked out. However, The Giggers see that he had talent tell him that when he gets his Kabump he can join the band. Sounds easy, right? Wrong. In order for a Gallavant to get a Kabump, he or she has to find their place in the ant community, and that requires hard work. He tries all of the various types of work, for example, irrigating water for the growing of food. He of course fails at all of them, and when it comes time for everyone to get their Kabump, Shando doesn't get one.
Shando's teacher Teetor's job ends up on the line when Antonim, the queen's guard, wants his job and uses Shando's failure as an excuse to get rid of him. Shando, who is upset that he is the only one who did not get his Kabump and now cannot join The Giggers, walks out on Teetor. Will Shando get his Kabump in time to help Teetor keep his job? What adventures will Shando go through in order to get his Kabump? In the end Shando decides, "I'd rather be a real nobody than a fake somebody."
Dove Review
This movie is great for kids 12 and under. Twelve would be stretching it slightly however, since it really is geared toward younger kids, but enjoyable for older kids since it is relatively short. This film receives the Dove Seal for family friendly viewing for all ages.