Escape to Witch Mountain
Theatrical Release:
September 16, 2003
DVD Release:
September 16, 2003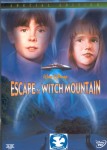 Synopsis
A vehicle floats in midair; a coat rack comes to life and attacks a sheriff; and wild animals are putty in the hands of Tony and Tia Malone in Disney's thrilling fantasy adventure about the "psychic" powers of two young orphans.
Their clairvoyance prompts evil millionaire Aristotle Bolt (Ray Milland) to lure them to his mansion to exploit their powers. While escaping, they meet a friendly camper (Eddie Albert) and begin to unravel the mystery of their origin. Soon, all three are fleeing townspeople who have branded the children witches. But then it happens! Someone with even greater powers takes over and leads the children – and the audience – into a dazzling and unexpected experience…one that is truly out of this world!
Dove Review
This is a classic Disney tale that will capture the attention of both young and older children. The story moves quickly taking Tony and Tia from one situation to the other. They are quick to use their "psychic" powers to resolve many trying and unpleasant situations, not to mention just to have some fun. As with many Disney tales, the bad guy is pretty bad and the kids are very good. When Disney first released this film in the theaters, they previewed the film with a Disney cartoon. They have included the cartoon, entitled "Pluto's Dream House," in this DVD. Other special features include an audio commentary with Ike Eisenmann, John Hough and Kim Richards; Making the Escape; 1975 Disney Studio Album; Conversations with John Hough; and Disney Sci-Fi.
Info
Company:
Buena Vista Home Video