Children on their Birthdays
Theatrical Release:
September 26, 2003
DVD Release:
September 26, 2003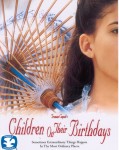 Synopsis
Based on the classic short story by master storyteller Truman Capote, "Children On Their Birthdays" is a tale of true friendship, dreams, first love, and coming of age.
In Medda, Alabama in 1947 a stifling heat has settled down on this tiny one-street town in the heart of the South. The residents resign themselves to the long months ahead, sipping lemonade, playing dominoes, and going about their business, completely unaware that this will not be just another summer. For, one day, from the thick cloud of dust cast off by the six o'clock bus emerges a tiny figure, dressed in sky-blue frills, twirling a parasol on her shoulder.
Lily Jane Bobbit (Tania Raymonde), a mysterious 13-year-old girl, accompanied by her mute mother, seemingly appears from nowhere and sashays her way into the hearts and imaginations of the citizens of Medda. It is two of Medda's youngest residents who are particularly taken by Miss Bobbit's almost magical influence.
Billy Bob Murphy (Joe Pichler) lives with his recently war-widowed mother, Elinore (Sheryl Lee), trying his best to endure the pain of entering manhood without a father. Although the freckle-faced hero consistently tries to do what's right and good, his best friend, Preacher Star (Jesse Plemons), makes that next to impossible. Billy Bob and Preacher have never met anyone quite like Lily Jane Bobbit and are determined to win her over. Will it ruin their friendship as they battle for the young girl's attention?
Dove Review
Touching, moving, sweet, elevating…four adjectives I have never used together to describe a single film since I began reviewing movies thirteen years ago. "Children on Their Birthdays," based on a short story by Truman Capote, is a rare gem that deserves all four. This Capra-esque film portrays common folks in small town, post-war USA who prove themselves capable of uncommon excellence, when challenged by the powerful opposing forces of unconditional love and abject greed. Douglas Sloan's screenplay skillfully explores all types of interpersonal relationships between adolescents and adults, ranging from sexual, to social, to racial. Under the capable direction of Mark Medoff, the story is executed in a clever and compelling way that makes its point without offending viewers. Faith and values are the key messages that emanate from "Children on Their Birthdays." My only regret is that we must travel back to a time prior to 1960 to find these social mores credible in our society.
Info
Company:
Crusader Entertainment
Producer:
Ginger T. Perkins and William J. Immerman