The Apple Dumpling Gang
Theatrical Release:
July 1, 1975
DVD Release:
September 26, 2003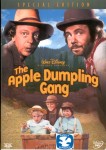 Synopsis
Head for cover! Don Knotts and Tim Conway are wild west outlaws who can't hit the broad side of a barn – but never miss when it comes to rounding up laughs! The hilarity begins when a roving bachelor (Bill Bixby) inherits three young orphans and a wealth of problems. When the youngsters stumble upon a huge golden nugget, they must fend off the greedy townspeople. So the kids join forces with the bumbling outlaws to stage a robbery of the gold. Little do they know a surly gang of sharpshooters plans to beat them to the draw.
Dove Review
What a riot! This classic Disney tale features three cute kids, a nice-guy gambler, two bumbling bandits, and a whole lot of laughs. This is a special edition DVD and is so fun to watch. It brought back memories of the old days with the Wonderful World of Disney on TV. That was family entertainment and this DVD is no exception. Don Knotts and Tim Conway are fantastically funny together. Bill Bixby and Susan Clark make a great duo after circumstances throw them together. This is the way Disney made them – clean and fun. You get a lot of special features like audio commentary with Sudan Clark, Tim Conway, Don Knotts and Brad Savage; a cartoon entitled, "Two Gun Goofy," production stills, biographies and much more. This classic comedy will be a valued addition to every family's film collection.
Info
Company:
Buena Vista Home Video