Bellflower Bunnies Volume 2
Theatrical Release:
October 1, 2003
DVD Release:
October 1, 2003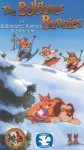 Synopsis
"Everything is always better when you work together," Daddy says to Poppy and Pirouette in the first episode. When the bunnies accidentally take off in a hot air balloon, they think flying is exciting, but a storm begins to blow and the balloon crashes. Everyone is OK, but Poppy and Pirouette blame each other. Can they learn to work together to repair the balloon and find their way back home?
When the bunnies visit Grandpa in the second episode, he signs them up for the big sled race, but Mistletoe, who is injured, can't go. Feeling jealous, he takes Grandpa's old rescue dog Grumps and his sled to find the Snow Rose that only grows on Three Pines Mountain. When they find the Snow Rose, Mistletoe discovers the sled they had taken was for the competition. Now Mistletoe must decide whether to go after the Snow Rose or let go of his hurt feelings to help out his brothers and sisters.
Dove Review
This is an adorable piece of animation. It is about a family of bunnies: dad, five little bunnies, and aunt Zinnia. In the first episode, "Balloonatic Bunnies," they address sibling rivalry, especially blaming each other when something goes wrong. It shows both approaches: first, the situation and a result of blaming, then a situation where they work together and help each other. Parents may want to discuss that some of these situations the bunnies find themselves in would actually be more serious in real life. Feature Films For Families also includes a brief discussion guide for parents (on the carton back). This includes questions such as, "What can you do to get along without arguing and blaming?"
The second episode, "Slide On," includes a situation where the little bunny has to make a quick decision whether to pursue his personal desire or sacrifice it to help out his brothers and sisters. He chooses to help his siblings. It also shows a cute example of improvising when something important breaks. Finally, it nicely addresses that winning isn't as important as having fun. In this episode, the Feature Films discussion question is, "How can you own up to something you have done wrong?"
Info
Company:
Feature Films For Families
Industry Rating:
Not Rated