Baby Wonders: Wonders on the Farm
Theatrical Release:
October 2, 2003
DVD Release:
October 2, 2003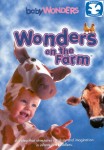 Synopsis
Be enchanted by a cast of charming children as they explore and learn in a colorful and fun-filled costume adventure. "Wonders on the Farm" captivates babies with fresh, vibrant images such as the joy of a young child picking strawberries, and the excitement of two sisters as they hold baby chicks for the first time. Each scene comes alive with classical music and contemporary melodies arranged and performed by world-class musicians.
Dove Review
As a grandmother, I can see young babies from 6 to 36 months being captivated with the images that flow and flow and flow, holding their interest. The colors and costumes are precious! Watching two children sitting in a field making lemonade was delightful viewing. I recommend this not only for parents, but caregivers as well: a wonderful diversion from cartoons.