George of the Jungle 2
Theatrical Release:
October 29, 2003
DVD Release:
October 29, 2003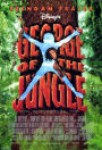 Synopsis
When we last saw George, he and his bride Ursula were living in wedded bliss in the peaceful jungle. Unfortunately, all this is about to change. Scheming mother-in-law Beatrice Stanhope is not about to let her daughter and grandson hang around with the klutzy King of the Jungle forever. In an elaborate plot, she teams with Ursula's obsessive ex-fiancé to hypnotize Ursula into leaving George and turn his jungle to mulch!
Dove Review
There is some violence in the movie, such as the three natives talking in their language about throwing the mother-in-law off a cliff. In fact, they do, but the narrator saves her life…in a way. People are hit in the head with coconuts, and there is the implication of a war going on between the jungle animals and the people in the bulldozers. There are also some sexual innuendos; for example, "Play Ape Magazine" (Playboy) is mentioned. Also, there is a line that says something about how George does not impress his friends with his decisions "but he did manage to impress his wife;" they were found by the fire alone, and it is implied that they had sexual intercourse. Ape kisses Ursula's mom and Ursula's friend ends up falling in love with Ape. Ursula does show her midriff in the movie, and George is scantily clad with his loincloth. There is also a part when the Narrator's hand comes out, almost as if implying his was the hand of God. At least, that is how I saw it. I feel that the movie was aptly rated PG. There were some funny parts and many references to the first movie.