Baby Good Sports: All Creatures Great and Small
Theatrical Release:
November 6, 2003
DVD Release:
November 6, 2003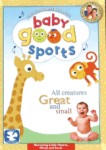 Synopsis
"All Creatures Great and Small" is a musical and visual experience that introduces infants and toddlers to eight animals that live in God's wonderful world — from a small butterfly to a giant giraffe. It also provides an opportunity for parents to teach their baby common animal names and the concept of large and small. Engaging animation, close up still images of real animals together with motion photography are underscored with the classical music and an old English hymn, All Things Bright and Beautiful.
The DVD contains other teaching tools. Two electronic board books are included: "Animals from A-Z" and "Big Animal, Little Animal."
Dove Review
Kurt and Brenda Warner have produced a wonderful series called "Baby Good Sports." This video takes the theory of early child development utilizing classical music, movement, colors, and both live shots and animation to stimulate a young infant's or toddler's brain functions, and adds a brand new exciting element, spiritual development. This video, aimed at children from 6 months to 36 months, does a wonderful job at capturing all the elements of a child's senses and stimulation points. There are live shots of all sorts of animals. Animation is used effectively showing butterflies, chicks, turtles, fish, monkeys and much more. At the end of the video, Brenda talks about the importance of getting kids off to a good start and why she and Kurt developed this series. It is wonderful to see well-known people promoting positive development and utilizing their gifts to help stimulate young minds.
Info
Company:
GoodTimes Entertainment
Industry Rating:
Not Rated