Baby Good Sports: Now I Lay Me Down to Sleep
Theatrical Release:
November 6, 2003
DVD Release:
November 6, 2003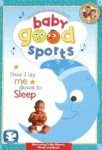 Synopsis
"Now I Lay Me Down to Sleep" contains Brahms lullabies and other soothing go-to-bed music. Playing the video helps infants and toddlers settle down before nap time or going to bed in the evening. The "Baby Good Sports" TM characters yawn, twirl through the sky, and look-over real babies fast asleep. Lilting music arrangements include such classics as Brahms Lullaby and Fourteen Angels from Hansel and Gretel.
The DVD contains one electronic board book, "Sweet Dreams." Also included is a vocal version of the lullabies, the lyrics, and the baby prayer. The bouncing of one of the ball characters keeping beat to the sound of a mother's heartbeat is another extra.
Dove Review
"Now I Lay Me Down to Sleep" is a wonderful video that parents can use to assist in early childhood development. There is classical music with calm and serene images. Colorful fountains and time elapse photography of landscapes are shown. A young child gives the Now I Lay Me Down To Sleep prayer. Brenda Warner discusses infant and toddler development at the tail end of this video. Parents and children will enjoy this entire series of videos.
Info
Company:
GoodTimes Entertainment
Industry Rating:
Not Rated