Wai Lanas Little Yogis
Theatrical Release:
November 16, 2003
DVD Release:
November 16, 2003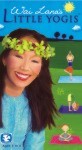 Synopsis
Children will enjoy working out with Wai Lana, the world's most-watched yoga teacher. With her warm and personable style, Wai Lana easily inspires her little yogis with a fun game of yoga. She has chosen poses that will entertain and delight children, while stretching their growing bodies and muscle groups.
Dove Review
Wai Lana's soft, almost purring voice is enough to put most children into a mode of doing what she's showing them in the video. The children are delightful to watch, as they stretch their bodies and relax in the Hawaii sunshine. Cartoon character animals are used quite effectively to get her message across to the children and hold their interest. This is recommended for children 3-8 years of age. I can envision a school/nursery school using this in their curriculum on an ongoing basis.
There are no objectionable elements in this video. In the event some parents might find the concept of yoga out of their range of experience, there is nothing of the mystical to be found in this video.