Buzz and Poppy: The Super Sticky Watermelon
Theatrical Release:
November 19, 2003
DVD Release:
February 10, 2004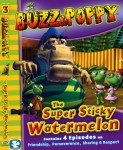 Synopsis
In "The Rain Jumping Game," poor Tweedle doesn't think he's good at anything. But when Buzz, Poppy, Tweedle and some of the Thug Bugs get stuck in the mud, they discover that God made everybody good at something. See what happens when they put their talents together!
When Wiley challenges Buzz and Poppy to a bike race in "The Big Bike Race," they learn an important lesson about perseverance. Some races aren't won by the fastest, but by those who don't give up—even when it's hard!
Those sneaky Thug Bugs hate to share! So when Wiley tries to win the prize for the biggest watermelon in "The Super Sticky Watermelon," he winds up in a sticky mess. Everybody discovers that the best prize of all is sharing with others.
In "The Parents Day Party," Poppy and friends plan a special surprise for the annual Parents Day Party. But will the mean and sneaky Thug Bugs spoil the celebration? Kids see that honoring their parents can be loads of fun.
Dove Review
I really like the "Buzz and Poppy" series. The bugs of the forest are cute, funny and there is always a great lesson to be learned. In this volume there are four episodes: "The Jumping Game," "The Big Bike Race," "The Super Sticky Watermelon" and "The Parents Day Party." Kids will really enjoy watching these because they can use the lessons that Buzz and Poppy learn in their own lives. They will learn that you don't have to be fast to be a winner, just keep going. Or, even if you aren't good at one thing, you can always find other things that you are good at. Integrity Publishing gives us great lesson in a fun-filled package of entertainment for the entire family.
Info
Company:
Integrity Publishing