Wake Up and Go to Sleep (CD)
Theatrical Release:
November 27, 2003
DVD Release:
November 27, 2003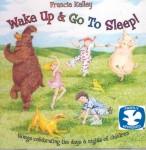 Synopsis
This is a CD with twelve sections relating to children.
1. Ce Ce Te Nana (Have a Great Day)
2. If You Listen Very Closely
3. I Know a Little Girl
4. Jammin' In My Jammies
5. Happiness
6. Precious One
7. Hey Little Suzy
8. Babies Won't Keep
9. Stay Awake
10. Song of Life
11. Kiss the Moon and Stars Goodnight
12. Sleepyhead Song
Dove Review
This CD opens with an upbeat calypso song, that I could easily picture young children moving along to in rhythm with glee. There are many instruments in evidence and the 5th selection, "Happiness," is well done on the piano. The pace and beat of the music becomes slower and more relaxing as the CD continues. I think this music will appeal to both babies and their caregivers and parents, and whomever is snuggling with baby at bedtime.