Toucanz Trail Obstacle Adventure
Theatrical Release:
January 13, 2004
DVD Release:
February 10, 2004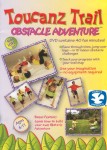 Synopsis
Now kids can have all the fun of an obstacle course right in their own living room. The kids in this award-winning fitness adventure video lead the way through 10 imaginary obstacle course challenges using a cute, animated trail map. As they conquer the obstacles, kids keep moving for thirty healthy minutes. Fun moves like beetle bugs and toe tickles build key motor skills such as balancing and arm-leg coordination. A bonus segment shows them how to create their own obstacle course. Kids enjoy doing this video over and over and even build their own courses for hours of family fun! Ages 5-10.
Dove Review
This video is a creative and fun adventure that takes kids through challenges commonly found in obstacle courses. Things like climbing a rope, jumping over logs, and running through tires. This approach makes it much more interesting than a traditional exercise video.
Your kids can also exercise along with this video right in your home because the moves use their imaginations alone. They pretend they are jumping over a log or climbing the rope. It later shows how they can make an easy challenge area in your backyard using common household items. It is a great way to get your kids to jump around and exercise in a fun way.
It's neat that the instructors allow the kids in the video to demonstrate the moves. Everything is done is a very encouraging way; and the instructors take time to show key points like, "notice how Sarah is lifting her arms so high." The instructors also take time to reinforce how well the child performed the demonstration.
The challenges include basic, intermediate, and advanced moves. The instructors will also encourage your children by saying things like, "if you didn't get this move, go ahead and rewind the tape." Also, they describe the importance of warming up and cooling down your muscles. There is also a Trail Map bonus feature on the DVD that allows young viewers to choose which challenges they wish to do and review.