The Butterfly Effect
Theatrical Release:
January 23, 2004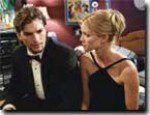 Synopsis
When seven-year-old Evan Treborn experiences blackouts and memory loss in this suspense thriller, his mother and doctors fear that he is beginning to struggle with the same mental illness that permanently institutionalized his father. To curb memory loss, doctors prescribe journaling, a practice that he continues through his life. But Evan's memory loss occurs only during the most pivotal and traumatic moments of his and his friends' lives. Those moments include a childhood prank gone horribly wrong and an experience of sexual abuse by his friend's father. Now, 13 years later, Evan (Ashton Kutcher) discovers that his journals help him remember his past — and change it! But as he tries to set things right for himself and, particularly, for his childhood girlfriend Kayleigh (Amy Smart), Evan finds that every change results in a cost. He must decide what price he is willing and able to pay.
Dove Review
"The Butterfly Effect" is a story written around an idea. The idea, borrowed from chaos mathematics, is that something as small as the flapping of a butterfly's wings can set into motion the production of a hurricane. Or, as the film puts it, a very small change to the past can completely alter the present. The film earned its R rating for many reasons — pervasive objectionable language, sexual situations, nudity including child pornography, drug use, and severe and sadistic violence including animal abuse and implied child abuse. Don't put yourself through the trauma of seeing this film.
Info
Company:
New Line/Fine Line
Reviewer:
Movie Morality Ministries - Shaun Daugherty