Catch that Kid
Theatrical Release:
February 6, 2004
DVD Release:
June 1, 2004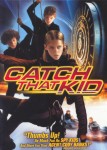 Synopsis
"Catch that Kid" is a comedic action-drama featuring the pre-teen antics of three friends, Maddy (Kristen Stewart), Austin (Corbin Bleu) and Gus (Max Theiriot). Maddy's father, Tom (Sam Robards), has a relapse from a mountain-climbing injury that leaves him paralyzed. The only way to return him to health is an expensive experimental procedure. When Maddy's mom, Molly (Jennifer Beals), a security-systems designer, is unable to obtain a loan to pay for the procedure, the kids decide to take matters into their own hands and devise a plan to rob a bank that has recently installed Molly's state-of-the-art security system.
In this pre-pubescent game of cops and robbers, "Catch that Kid" provides a bubble-gum-chewing audience a thrilling, action-packed adventure where kids outwit their bumbling adult opponents at every turn using a variety of high-tech devices.
Dove Review
Maddy, Gus and Austin are all very good friends. The boys each like Maddy as more then a friend. Maddy's dad is hurt in a accident and needs a very expensive operation. Maddy and her friends are going to try and raise the money. The kids end up telling lies and stealing to help out. The movie gives kids the idea it's ok to steal and lie if it's for a good cause. Maddy's mom ends up finding out. She does make sure the kids know what they did is wrong. I think this movie is best if watched by older children. Dove guidelines do make it an all ages movie. This movie is awarded our Dove "Family-Approved" Seal.
Info
Company:
20th Century Fox Home Ent.